In February, Surgers from Chicago and Dubai returned to Kaberamaido, Uganda, where we work closely with Prince of Peace for Orphans and Widows (POPOW) to bring clean water and sanitation access to people in need.
At Surge, we often talk about how we believe in a holistic approach towards the wellbeing of our communities. Even though our work is focused on water and sanitation, every now and then we are able to connect our partners to critical resources that support their overall growth and development. This time, our story is about a soccer ball that our team member Phil McCarter donated to a community that we completed a WASH training in.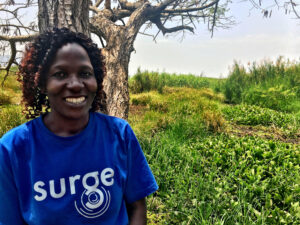 A day after we brought the ball, it was given to a group of youth who were very excited to receive it. A few weeks later Florence, our contact at POPOW, went to check on the youth and found them playing football during their free time. Youth from neighboring communities have now joined them, so they have decided to form teams and compete among themselves!
In her updates to Surge, Florence mentions that "what [we] may have thought to be small offers that came from [our] hands and hearts are contributing to behavior change and transforming the lives of many youth in Okile landing site and the neighboring communities."
Sometimes the simplest gifts can transform a life.
One young man shared his story: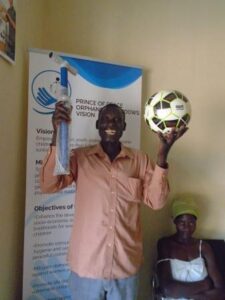 "I came to this landing site when I was a very small boy, and I grew up fishing and swimming. I spent my time on many unproductive activities since we don't have much to do. Since we got this ball, I have now joined the football team, and I am the best player. So I have to spend more time practicing so I can defend my team well.
I go fishing at night and when I return in the morning I rest and then go play football in the afternoon. My team is so strong and we are the best among the rest. This inspires me to work hard for my team."
Our impact did not stop with the soccer ball. We have also provided water, sanitation, and hygiene (WASH) training to the community members. One man, Simon, discussed with Florence how Surge's presence has changed the community.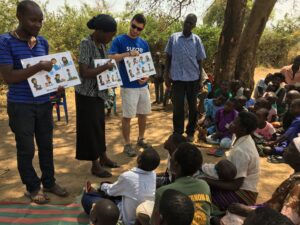 "[Surge] trained us on how to keep good hygiene and sanitation. We are now the ambassadors of change in our landing site, and we shall no longer let our communities suffer from diseases which are caused by poor hygiene and sanitation. We have put a policy in place that every Sunday we will do a communal cleaning of homes around the landing site. Surge also helped us to manage our youth, who used to spend time drinking alcohol and doing drugs. Now they are very responsible boys. They spend their leisure time playing football, maintaining the ground, keeping it clean, and competing among themselves. They have also become the source of entertainment for the idle elderly men, children, and other younger youth."
Surgers work hard everyday to make a difference in people's lives by giving them the gift of safe water.
As Florence Ringe, Executive Director of POPOW says, "To make a difference in people's lives, you don't have to necessarily be brilliant, rich, beautiful, handsome, or perfect. You just have to care enough, be there, and do what you can with what you have." Consider investing in one of our projects to change a community. 100% of proceeds go to changing the lives of communities like Kaberamaido.
Written by Ashley Quinlan, Field Program Development Intern at Surge for Water.