In Kaberamaido, Uganda, Surge has partnered with Prince of Peace for Orphans and Widows (POPOW) since June 2015 to provide ceramic filters to community members. This past November, we continued to grow this partnership with the rehabilitation of a borehole and two community wells, the launch our WASH training, and the distribution of more filters. Here's a detailed update from the field.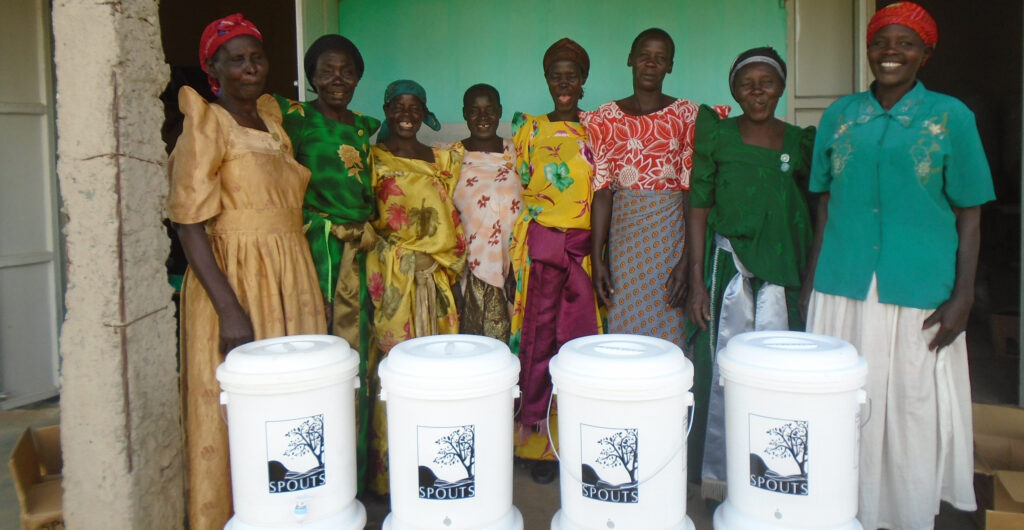 Rehabilitation Projects
In Uganda, the Ministry of Water and Environment and the Ministry of Health created six national guidelines for water-related projects. Each of the requirements must be met before any projects are begun as they provide a chance to engage the local community members in the project. Surge supported POPOW in achieving these requirements:
Creation of a land agreement for the water source.
Signing a Memorandum of Understanding between the end users and providers to specify the roles of the development partners and end users.
Meaningful involvement of women during the pre-construction and post-construction phase. Women suffer most in times of water crisis and therefore their involvement is key.
Capital contribution of UGX 100,000 (equivalent to approximately $29.60) by the community for the rehabilitation of water sources and a contribution of UGX 200,000 (equivalent to approximately $59.25) for new water sources as a sign of commitment to the project.
Percentage of homes with latrines must be increased to at least 30% to help prevent groundwater contamination.
Development of a comprehensive operations and management plan, which shows how the community will keep the facility working and operating on a daily basis. A Water User Committee, consisting of 10 people, is created to ensure that the project continues to work.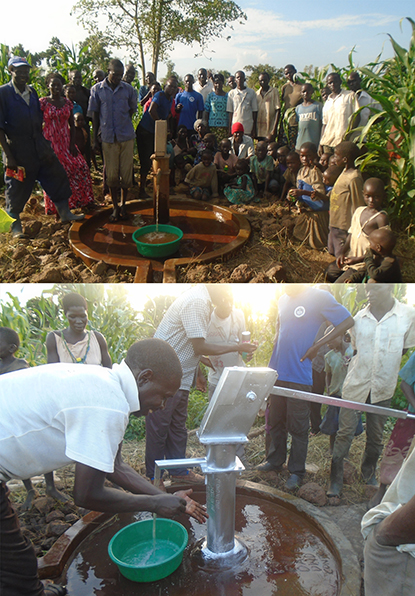 The Agam community, home to more than 400 households, has both a high demand and need for clean water. Before work could begin on the borehole, latrines needed to be constructed to meet the 30% requirement by the Ministries. Community members worked together to construct latrines and bathing shelters for widows, the elderly, and the disabled. Once latrines were constructed, the borehole was able to be fixed on Dec. 5, immediately providing clean water for the community. In addition, the Water Source Committee purchased 10 filters. The rehabilitation of this borehole and the purchase of filters allowed for Agam community to be chosen as a model community for both sanitation and hygiene by the District Health and Environment Officer.
Besides the Agam community borehole, two community wells were also rehabilitated, one in Manjengo community and the other in Odoot community. Both communities pledged to contribute labor, tools, and supplies. Additionally, both communities also needed to increase the percentage of homes with latrines before construction could begin. Similar to Agam community, Manjengo community was able to increase the percentage far beyond 30% because of the high cooperation of community members.
WASH Training
In addition to rehabilitating water sources, Surge and POPOW partnered together to provide WASH training, which educates children on life-saving sanitation and hygiene projects. Four schools were provided with WASH training, and each has their own story.
Ogobai Primary School has been nominated as a model school because of their improvement in sanitation and hygiene practices.
Oyama School has used the WASH trainings to improve classroom models and promote good hygiene practices both in and around the school to community members.
After WASH training, Opiu Primary School has formed children's health clubs to improve hygiene.
Okapel Primary School has seen the largest improvements after WASH training. Before, children practiced open defecation and did not practice hand washing. Today, the school has formed a health club, installed hand-washing facilities, and found ways to stop students from practicing open defecation. Additionally, Surge team members personally trained more than 1,700 students in five schools during their visit in November. These trainings provided additional guidance to the POPOW team who can now carry on delivering Surge's signature program effectively!
Filter Distribution
The last aspect of our most recent partnership with POPOW was to distribute water filters to communities. Besides the 10 purchased in Agam community, 30 additional filters were purchased by other groups. The Ribere En Teko group bought nine of these filters for its members, who tend to be widows, people living with HIV, and the elderly. We are now planning to deliver another 238 filters for distribution in Kaberamaido. The beneficiaries will include schools, women-run groups and households.
As our partnership with POPOW continues to grow, we are positive that we can continue to have an impact in Kaberamaido. If you are interested in helping us with projects like these, please consider making a donation to Surge.
Written by Ashley Quinlan, Field Program Development Intern at Surge for Water.