Lorensius Gatot Widyartoak (Pak Gatot) &  Monica Anitya Delmuti (Ibu Anit) represent Surge for Water's implementing partner, Yayasan Labda Radmila Agrapana (YLRA) in Sumba, Indonesia.  Pak Gatot has always been passionate about working on social programs, social development, and political organizations. In 2019, he got together with his friends to start YLRA and do meaningful work related to health, infrastructure, education, development, and much more. 
Ibu Anit, a mother of 3 children, used to facilitate a literacy program led by the Department of Education to assist teachers with their grade school students. She's also a representative of YLRA, who now supervises our joint Menstrual Health pilot.
Here's what Pak Gatot & Ibu Anit had to share about YLRA and this new partnership with Surge.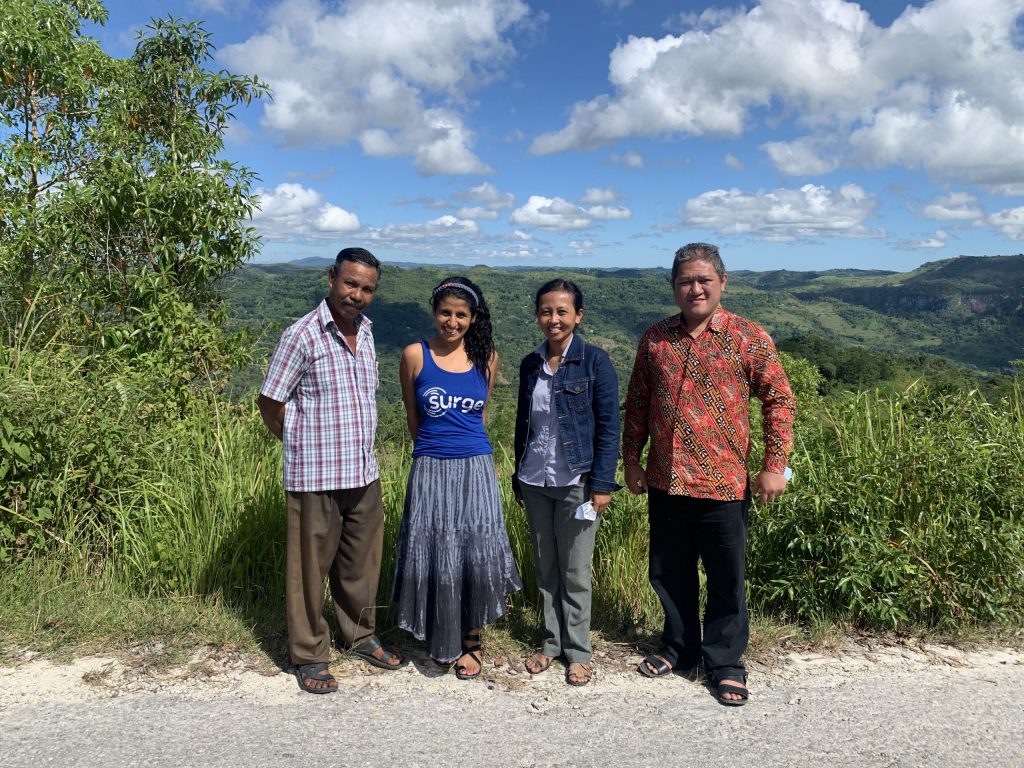 Tell us a little about YLRA, Pak Gatot?
Labda Radmila Agrapana is a Sanskrit phrase. Labda Radmila as a phrase means "we serve from the source to the source".  The "source" can mean from the community or from the people. Agrapana means work for the source, a higher being. With this, we hope to consistently serve the community. 
YLRA was founded in October 2019 – we're quite new! YLRA does work in different areas in Indonesia like Java, Sumatra, Mapua, and, of course, Sumba.
He went on to describe that within YLRA, they currently have 3 separate areas that they call communities or focus areas: Sumba Bisa community, technology community, and coastal community. Ibu Anit is the coordinator of the Sumba Bisa community, and it's through this sub-organization that Surge's Menstrual Health pilot is currently running.
What is the water situation like in Sumba?
Pak Gatot: The biggest problem is the availability of clean water, as Sumba is one of the most difficult islands for water access. The dry season on average is 8-9 months and the wet season is 3-4 months. Water is scarce. There's limited rivers, springs, and lakes. But Sumba has a lot of underground rivers, which is characteristic of a karst island. The island plate is made of limestone. Additionally… Poverty is high. Health is poor. Sanitation is not good. Open defecation is quite common. It's difficult because water is the most important thing in life!
Ibu Anit added, "Many people walk several kilometers just to find water."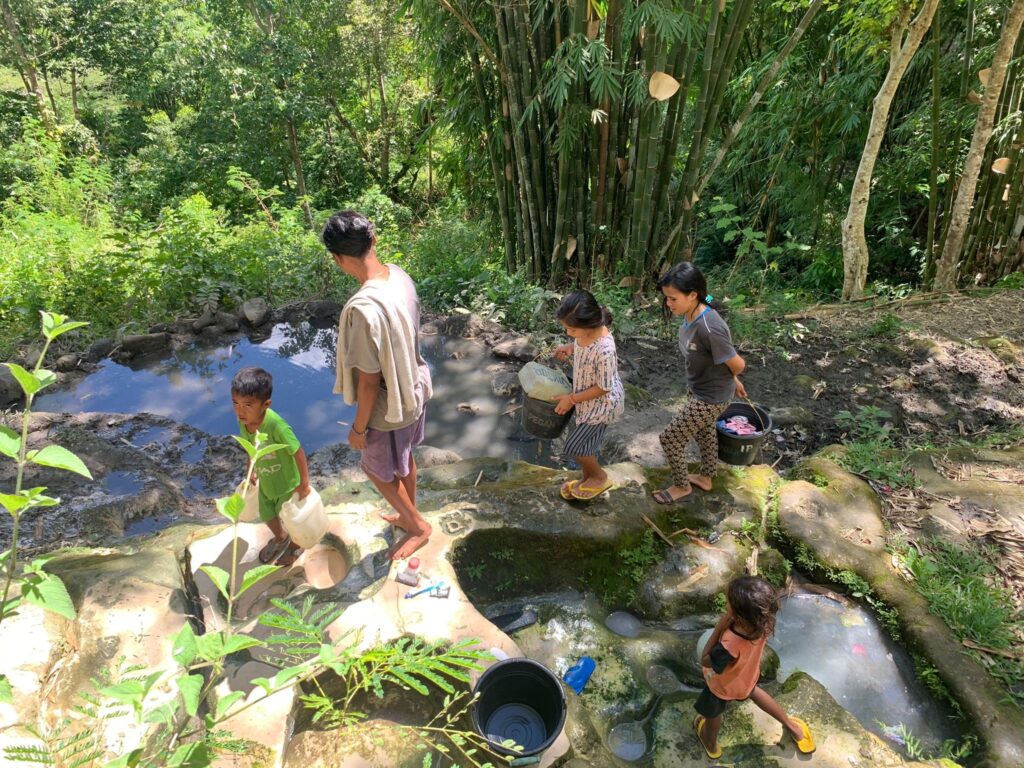 Why do you want to be a part of solving the water, sanitation and health problems in Sumba?
Pak Gatot: I'm excited by projects that help the people in my community. I'm committed to improving society's welfare.
Ibu Anit: I want to be a part of solving water, sanitation and health problems in Sumba because I face these issues everyday. I cannot be apathetic to these problems that I personally face, but also my community. We need these to live, to survive.  
Ibu Anit, why were you most passionate about menstrual health specifically? What's your vision for this program?
Ibu Anit: I hope we can reach many young women in Sumba through this program. I want women to support one another. In Sumba, menstrual health is not discussed publicly in schools nor within the larger family. It's usually a mother who educates her daughter. I'm excited to start a more open conversation about menstrual health through our program.
Pak Gatot added that in the past, there was a local belief that women could not go to the spring water, which is considered sacred, because it was thought to be inappropriate when menstruating. Today, this is still believed in areas where the sacred springs or rivers are protected by the leader of the local religion (tokoh adat) in the village. Through our Menstrual Health Program we will continue to learn about this rich culture and how we can help the community with their goal of improving conditions for women and girls.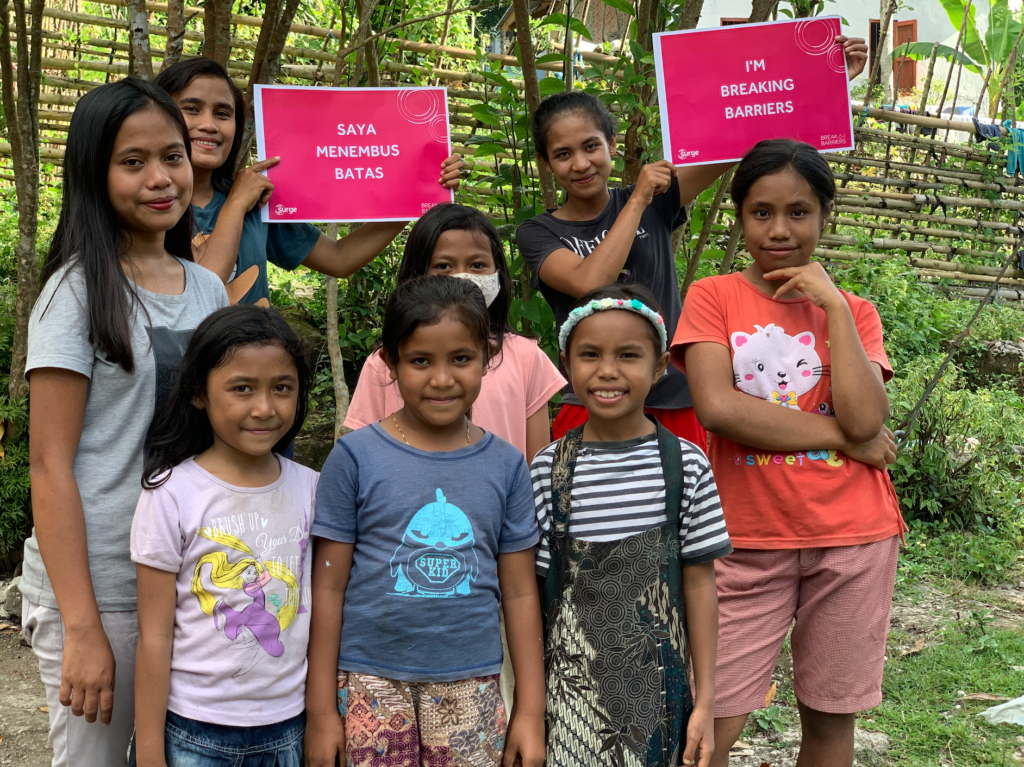 What are you most excited about in your work with Surge for Water?
Pak Gatot: When I met Shilpa, she demonstrated so much passion for the work on water. I don't see that in many people. I felt easily connected to her because of her passion. She asked detailed questions of how we live, of how we do work and I really appreciated her passion for getting to know our community. We understand that doing work in social development is not an easy task. It often requires a lot of time and energy. That's why collaborations are so important and we're lucky to be in partnership with such a committed team at Surge for Water.
Ibu Anit: The most exciting thing about this work is that it will encourage people to make a better life for themselves. Through the menstrual health training program, we can now provide support for so many young women in Sumba and it's very touching and inspiring to be able to do that kind of work.
Partnering to Strengthen Communities
Surge & YLRA share several core values – equity, respect, and stewardship. With YLRA's commitment to improving society, and Surge's commitment to WASH & Menstrual Health, we're all looking forward to a strong and successful partnership that will positively impact the lives of many for generations to come!
This interview was conducted by the reporter and condensed and edited by the editor.
To learn more about Surge's work in Indonesia, please contact us.
Reported by Kalla Sy, Programs Intern
Edited by Shilpa Alva, Founder & Executive Director