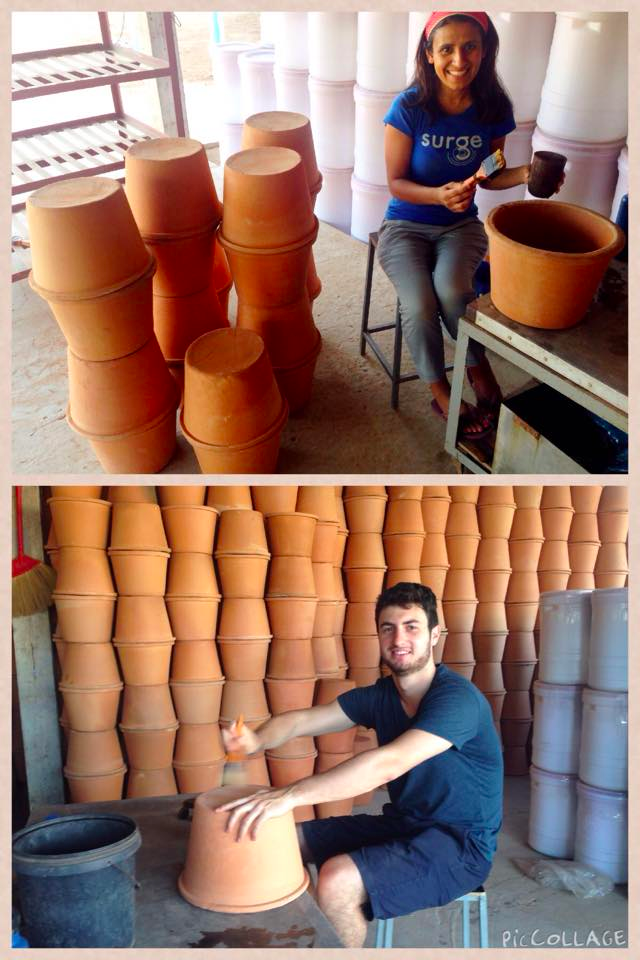 Written by Surge volunteer Phil McCarter. Read his first three field updates from the Philippines here, here and here.
After the Philippines, [Surge co-founder and executive director] Shilpa and I continued on to my final stop of the trip, Cambodia. I think it is definitely safe to say that this country was not what I had expected at all. My rather naïve preconception, as it turns out, which it would be largely similar to Vietnam, was extremely inaccurate. I was simply stunned at the poverty level and the generally extremely low standard of living. I was also amazed at how dry the place was. The primary purpose of this trip was to continue Surge's strong relationship with established field partner, RDI, and to determine which projects to allocate Surge's funding for the year.
We stayed in the guest accommodation on RDI's campus (about 30 minutes outside of the capital, Phnom Penh), which, interestingly enough were shipping containers they had creatively converted into lodging. The first day was spent touring the facility with our host, Chanda, as well as learning about what they manufacture and the processes behind it, including their ceramic water purification filters and earth ball rainwater-harvesting tanks. After the conclusion of the tour, we spent some time helping to manufacture the ceramic filters, by applying the finishing coating of silver nitrate, which helps to improve the purification efficiency.
The dry season usually hits Cambodia hard, but this year was particularly dire. In this season the water sources become extremely limited and the poorest members of society are very often forced to spend a large amount of what little disposable income they have on water. So, the next day we visited a couple of very poor villages where RDI had installed earth ball tanks, using Surge funding.  We wanted to see what people thought of the tanks and what impact they were having on the lives of the families using them. These tanks essentially collect water during the rainy/wet season and store it (up to a capacity of 4000 litres) for use in the dry season when natural supplies are limited and stretched. Upon interviewing some recipient families, the profound impact that these tanks were making became immediately apparent. In some cases, families reported savings of up to US$140 per year on water purchases that they had no choice but to make during the dry season. These are communities where people earn as low as $1 to $2 per day.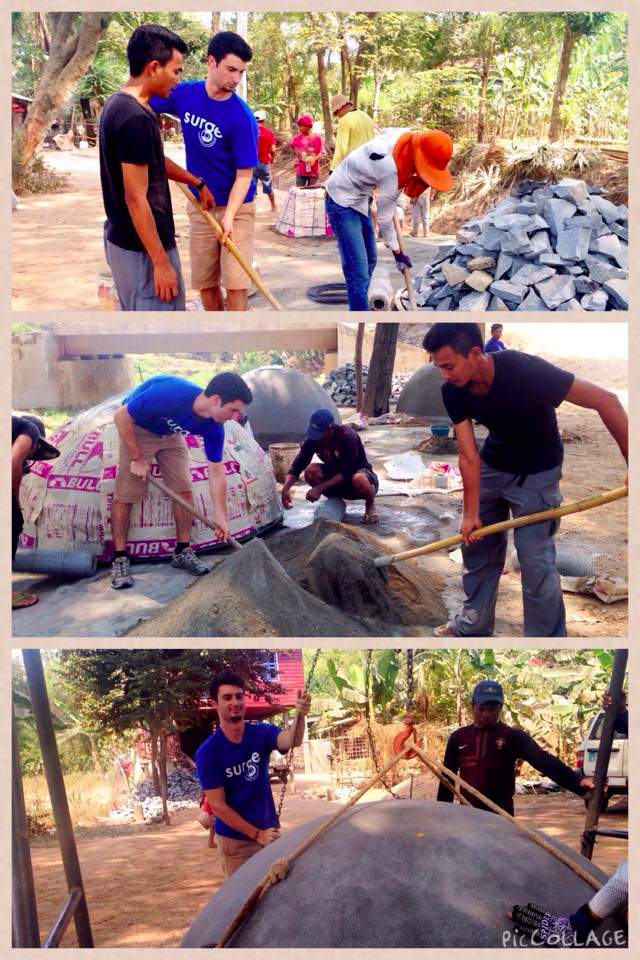 The remaining two days were spent on an RDI project in a different, yet equally poor village, where I helped a team of workers to construct earth ball tanks for new recipients while Shilpa very effectively kept all the village children occupied and out of harm's way! Helping with the construction was an interesting experience, with very basic, labour-intensive techniques used throughout. Each worker seemed to know his individual role well, but collectively the vibe seemed extremely laid back (they even took a two-hour lunch break, including one hour for eating and one hour for a nap!). I particularly enjoyed the part where we had to sling hundreds of small, wet clay blocks at the design mold! I also tried my luck in a mass game of Sai with the other workers, which is a traditional Cambodian game based around kicking a shuttlecock from person-to-person, without letting it fall to the ground.
Cambodia is an intriguing country, and I enjoyed learning about its fascinating history. The Angkor Wat complex is a spectacle like no other on this planet and takes you back nine centuries to the awe-inspiring ancient Khmer civilisations that were very interestingly steeped in Hindu, and only much later, Buddhist traditions.  Not all of Cambodia's history is glorious, however, and I was deeply saddened to learn in much greater detail of the atrocious Khmer Rouge regime and the tragic events that occurred under their rule. The country is still reeling from this and will continue to be scarred by it for some time. Nevertheless, the Cambodian people are genuinely some of the friendliest I have ever encountered and always seem to have a smile on their faces.
This trip was a very humbling and eye-opening experience for me. Spending a prolonged period of time in and around such disadvantaged communities and engaging with the people within them has allowed me to understand and experience their daily struggles first-hand and witness the immense hardships they endure just trying to get by and satisfy even the most basic human needs. It truly struck me how lucky some of us are to have been born into the families we were born into and live the privileged lives we resultantly live. Such things should not be taken for granted because for every individual who lives a life of privilege, there is one who does not. So let us make the most of the opportunities we are given and not be wasteful of the precious resources that we are so lucky to have.
I am tremendously thankful to have had the opportunity to be a part of such a trip and want to thank Surge, Shilpa and Marita from the bottom of my heart for truly opening my eyes and taking me on my first volunteer trip. I would not have had it any other way, and I hope there are many more to come!
Phil McCarter is a member of Surge for Water's volunteer team in Dubai, where he grew up. He holds a bachelor's degree in Economics from McGill University. He says of his reason for working with Surge, "I have always wanted to give back to those much less fortunate, whom I differ from only because I had the luck to have been born into a more privileged life, and nothing more. With Surge, I finally had that chance."