With nearly 36,000 confirmed cases of COVID-19 in Uganda as of January 4, our work in partnership with POPOW (Prince of Peace Orphans and Widows – Vision) is providing communities with the opportunity to practice safe hygiene and education on the dangers of the virus. So far, we have held 26 radio programs, distributed 273 hand-washing facilities, and trained 370 people in how to make soap.
Hand-washing Facilities Donated to Prisons
Three police stations in Kaberamaido received a hand-washing station to help combat the spread of COVID-19. As police stations have still been receiving new inmates daily, these hand-washing stations were donated for the safety of the staff, inmates, and community members coming into the station.
"On behalf of the Kaberamaido Police Station, I want to thank Surge for Water for providing us with hand-washing facilities. We had almost started washing our hands without soap. But now that you have provided us soap and hand-washing facilities, we can warrant more safety as we work and we are very grateful to you for that." – Resident District Commissioner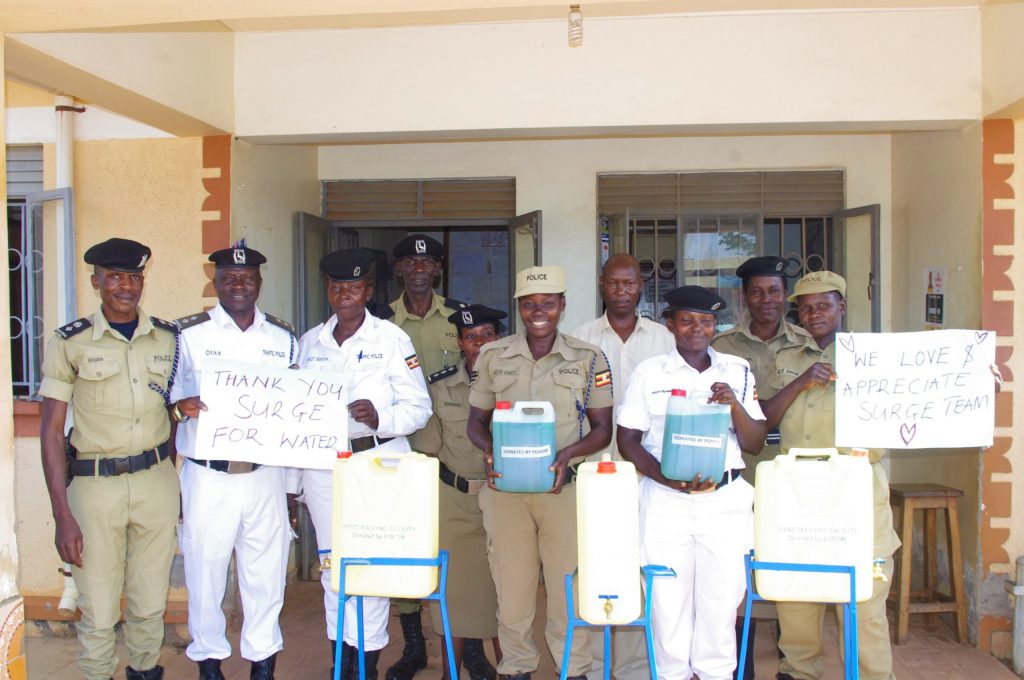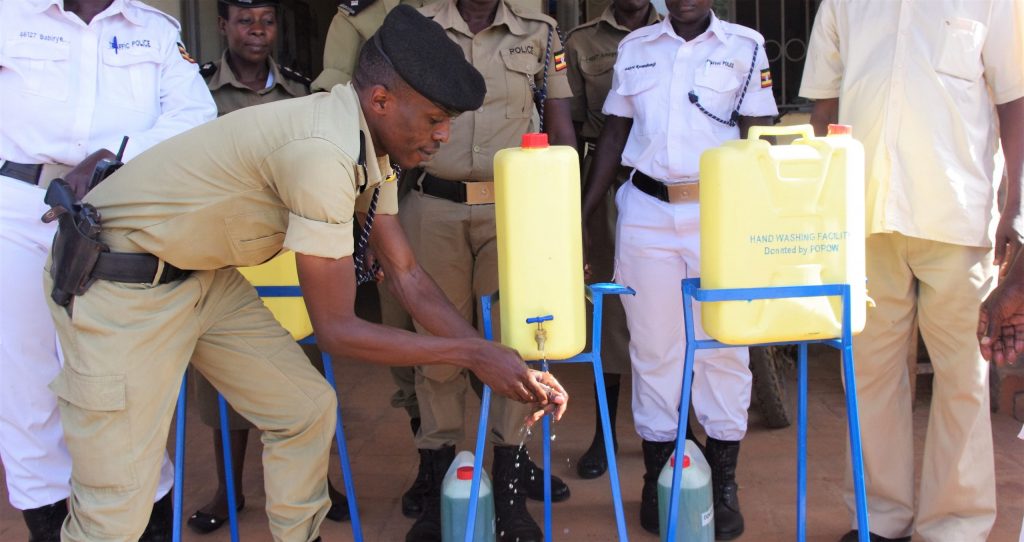 Soap Making Classes Held at Health Centers
During April, soap making classes were held at 10 health centers, and hand-washing facilities were also installed to help the staff and patients throughout Kaberamaido and Kalaki.
For example, Aperkira Health Center received two hand-washing facilities. Although they already had two, there was pressure for more as hand-washing has become an important action to combat COVID-19. The medical staff were also trained in soap production, and were very pleased with the soap they made:
"This POPOW soap is unique – it's very thick with a very nice smell. You can't compare it to what the National Medical Store supplies us. I am so impressed. I will take this knowledge beyond the health unit, buy the ingredients, and make my own soap for home use."- Suleiman Eding, Senior Medical Clinical Officer, in charge of Aperkira Health Center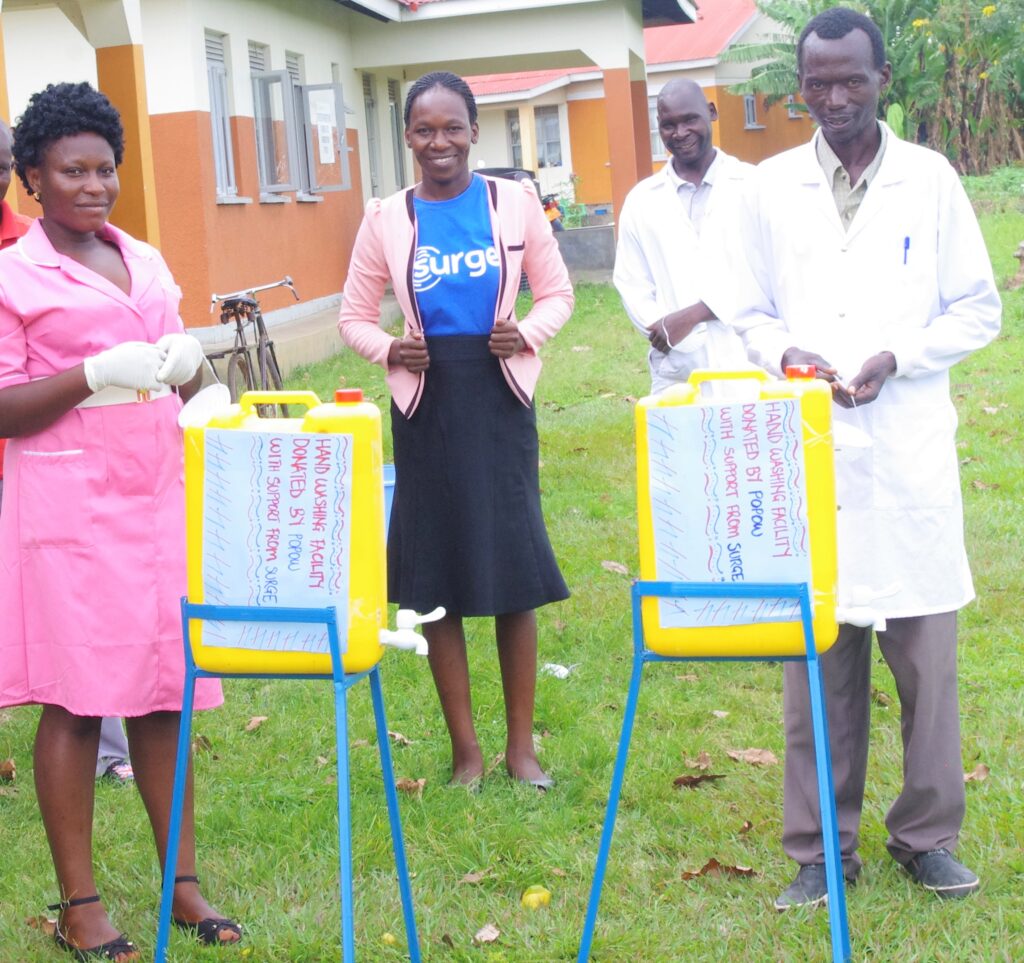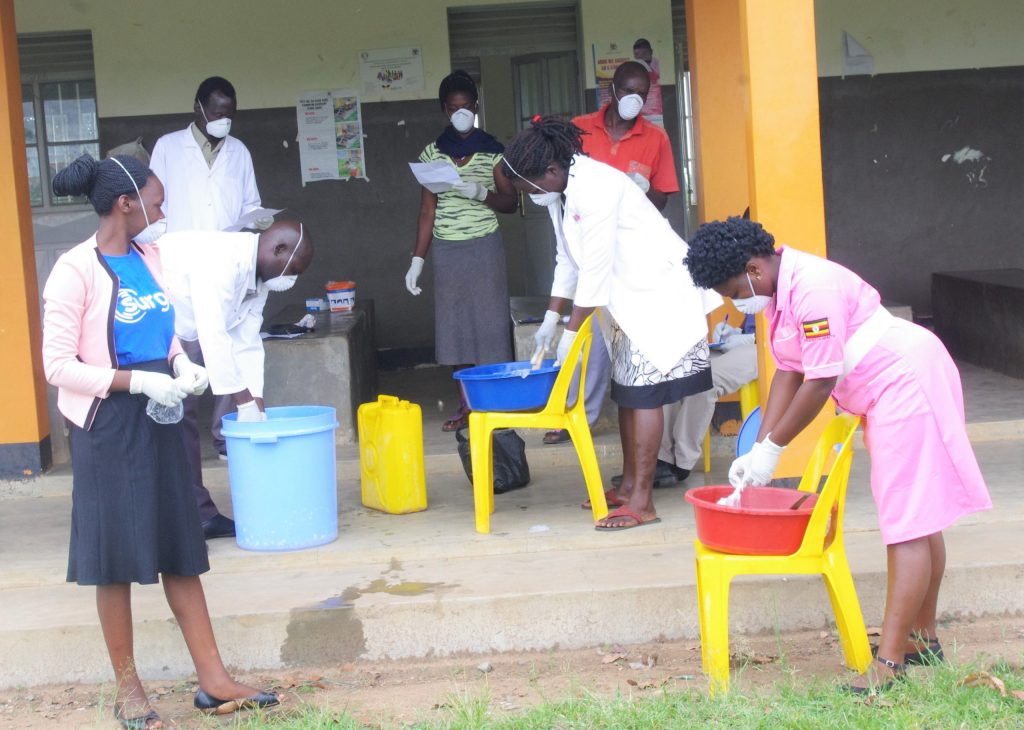 Kobulubulu Health Center is also overwhelmed with thousands of patients suffering from various illnesses, and they only had one hand-washing facility that was dysfunctional. Two hand-washing facilities were installed, and with training on soap production, the hospital will be able to safeguard itself against the coronavirus and promote good hygiene practices among everyone who visits.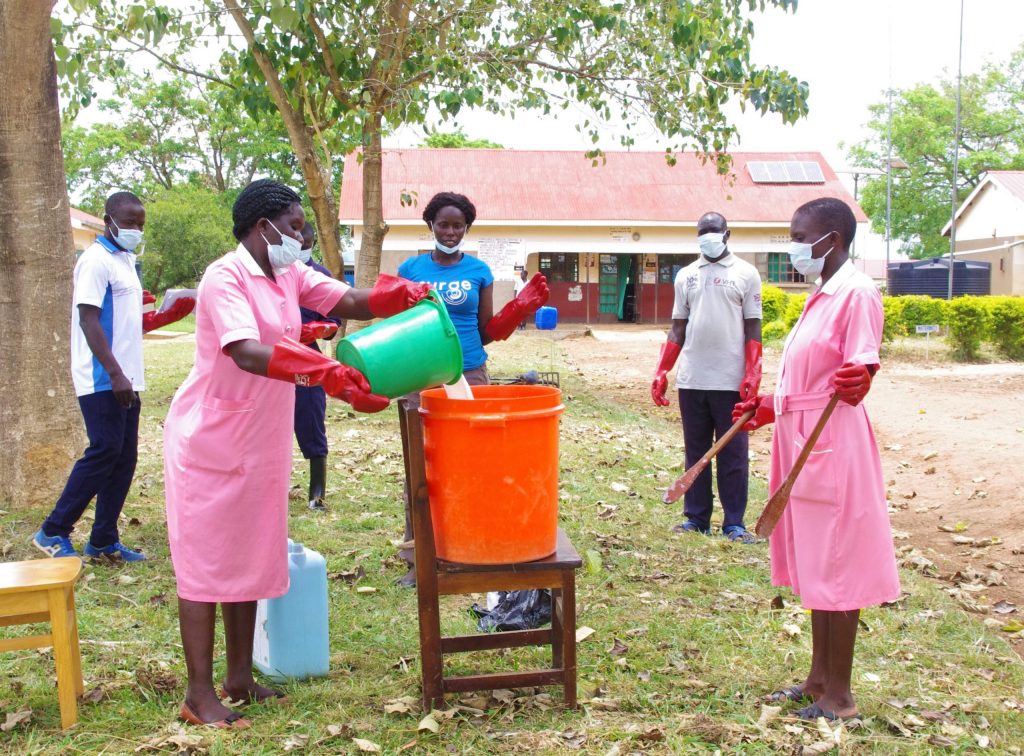 Adelo Angella, a nurse at Kobulubulu Health Center, was thankful for the hand-washing facilities and training in soap production. She said that "the soap supplied by the National Medical Store is not enough and of very poor quality. This soap made by POPOW is of very good quality" and they will now "be able to make our own high quality soap."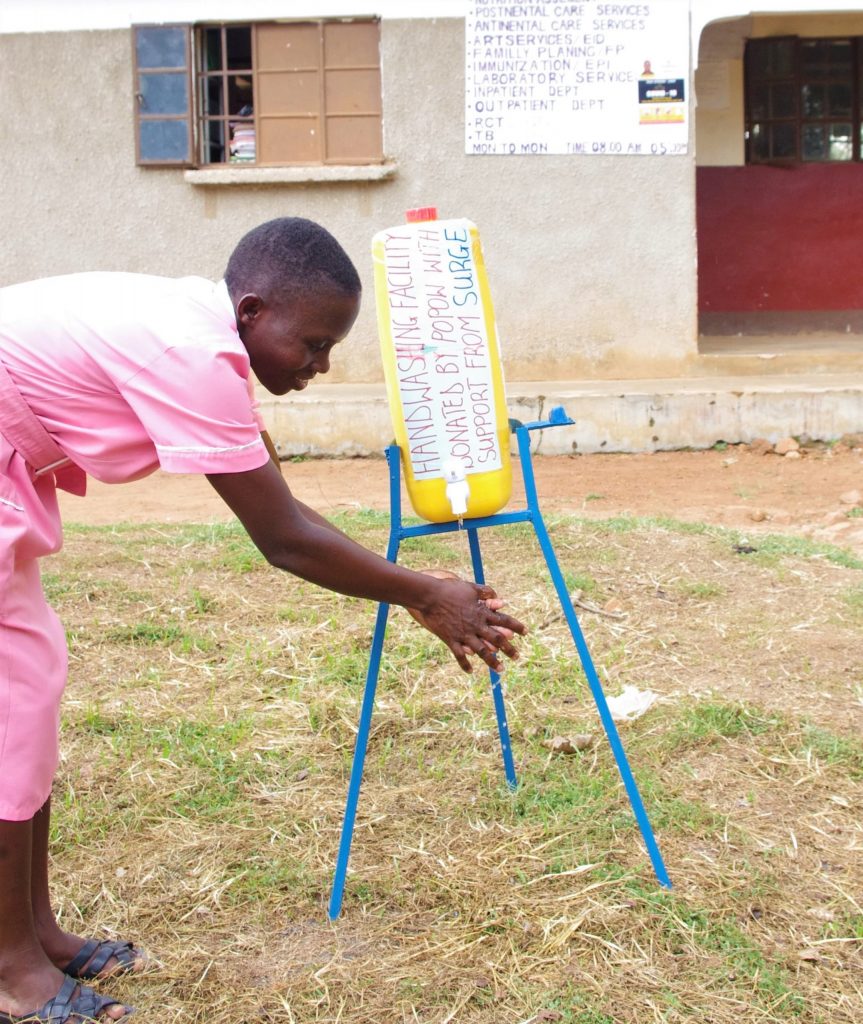 COVID-19 Prevention Efforts Reach Local Market
In addition to the local health centers learning how to make soap, soap making classes were held at markets and trading centers. At Kaberamaido main market, five people attended, including the Chairperson of Kaberamaido Traders and the Chairperson of Market Vendors. The training was held within the market and was set-up to avoid crowding and large gatherings.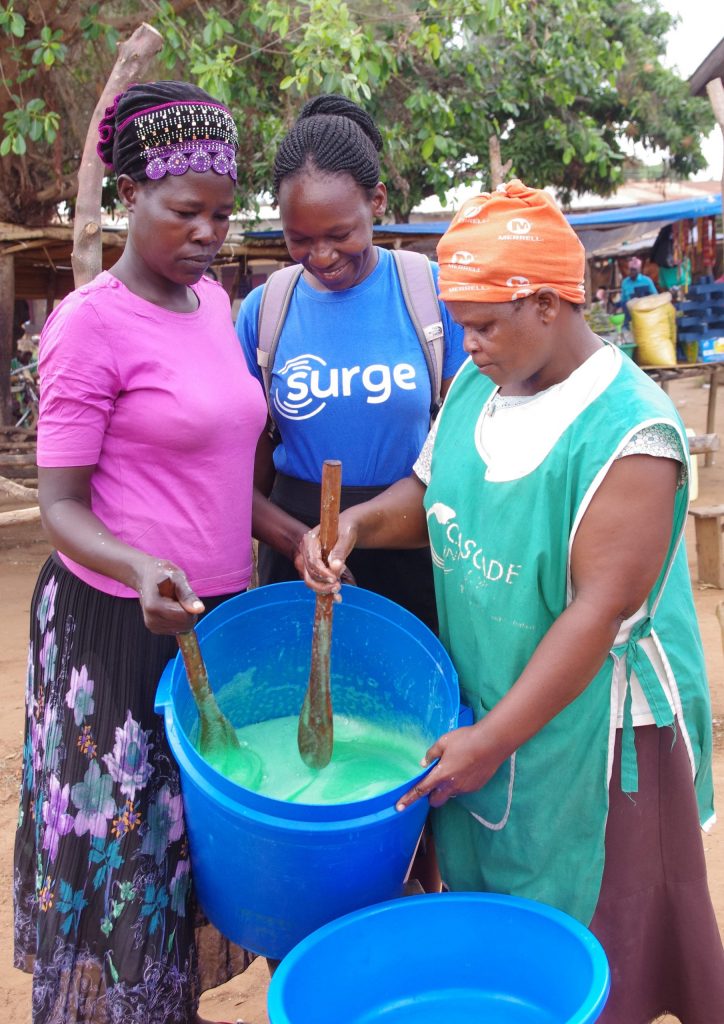 Ogoro Jane, board member of the market, thanked Surge and POPOW for the training. "Everyone now needs soap and I can also make it for selling. In the market here, I sell food stuff and with the availability of soap, customers can wash their hands before buying from me. This will keep us safe from the corona sickness. Thank you again and again."
Additionally, the market didn't have hand-washing facilities for the traders and customers to use. Besides the soap making class, the market received two hand-washing facilities to protect all people entering the market.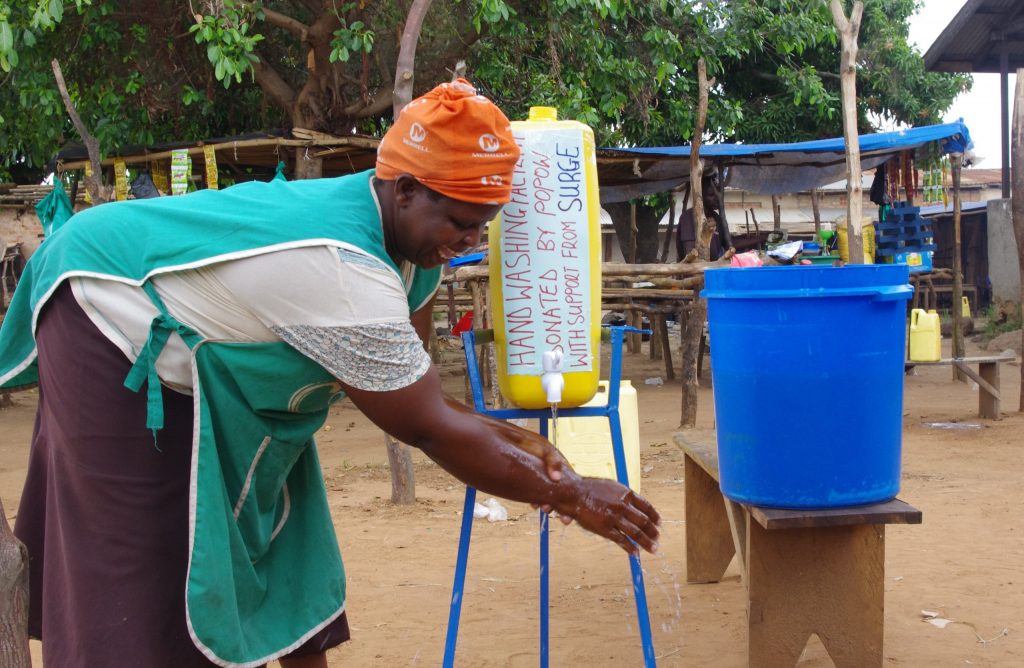 We are still working hard with our local partners to prevent the spread of COVID-19, and every solution implemented through Surge and POPOW's partnership creates jobs in Kaberamaido & Kaliki, Uganda, strengthening the livelihoods of community members. During COVID-19, Surge was able to keep its full-time team in Uganda safe and employed by providing safety gear and continuing infrastructure programs as soon as the community was no longer on lockdown. Ongoing support from long-time donors and sponsors ensure the continued support of field-based staff, helping strengthen capacity, skills and knowledge in the district.
We're not safe until everyone is safe. As COVID-19 continues to spread, we will continue to work with our local partners to protect the communities we serve.
Note: Surge would like to thank donors and friends of Surge for helping us spread awareness and raise funds to strengthen our existing programs to better address COVID-19 prevention. Together, we are sustaining health in our communities into the future. If you're able to help some of the most vulnerable in our global community, please visit: surgeforwater.org/covid-19