March 22nd, World Water Day, is when several thousands of organizations and people around the world celebrate water. It's an opportunity to learn more about water-related issues, to be inspired, and to inspire others to take action that makes a difference.
Here at Surge, we are especially excited about this year's theme of water and jobs. The theme focuses on how enough quantity and quality of water can change workers' lives and livelihoods — and even transform societies and economies.
Through our global work, we have met many wonderful local leaders and workers who dedicate so much of their time towards addressing this global water crisis. They are the true heroes in this fight toward water and sanitation for all. So today, we'd like you to join us on a journey around the world — to meet these amazing people — who we are honored to partner with!
Meet Moreen Katugume; Ntungamo, Uganda. Surge Partner Organization: Living Water
Q: When did you get started working with water and why?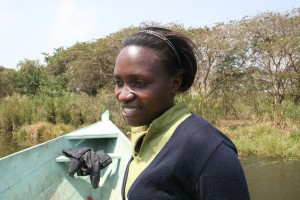 A: I started working with water in 2008 after finishing my studies. I grew up in a water stressed area, which inspired me to study water engineering so I could contribute to the well being of the community, as far as access to safe water is concerned.
Q: Why is water important to you?
A: I am passionate about water because I grew up in a water stressed area and saw how community members would struggle to get safe water. There was a cholera outbreak in our area, and it makes me feel like I should work tirelessly to help rescue the communities that are in the same dilemma we used to be in.

Q: What is your favorite memory of working with Surge? Do you have any comments about Surge's support of your work?
A: My favorite memory of working with Surge is when they made a commitment to support the construction of a school latrine at Kitembe Primary School. This school had dilapidated latrines that posed a big threat to the well being of the pupils.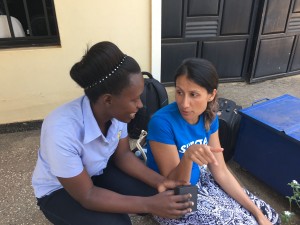 Surge provides real and practical solutions to the community, and from the time they have joined us, the lives of Ugandans have changed in terms of water, hygiene, and sanitation. I love the Surge team and all of the donors. May God bless you, your families, and your friends for having such generous hearts.
Q: Tell us more about yourself: What are your hobbies? Your interests?
A: I am outgoing and like to let things happen. All of my interests revolve around my work — I'm interested in water technologies and quality improvements, as well as farming and volunteering. In my free time I like to play sports, listen to music, and swim. I am married, and we have been blessed with two children.
Support Surge's work in Uganda with a donation in honor of World Water Day here. With Surge's 100% Pledge, 100% of your donation goes directly to our field water, sanitation and education projects.
Compiled and written by Executive Director Shilpa Alva and Ashley Quinlan, Field Program Development Intern at Surge for Water.