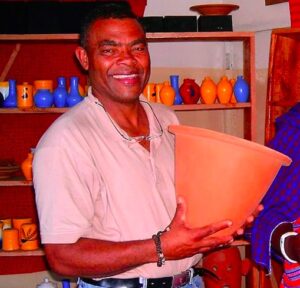 March 22nd, World Water Day, is when several thousands of organizations and people around the world celebrate water. It's an opportunity to learn more about water-related issues, to be inspired, and to inspire others to take action that makes a difference.
Here at Surge, we are especially excited about this year's theme of water and jobs. The theme focuses on how enough quantity and quality of water can change workers' lives and livelihoods — and even transform societies and economies.
Through our global work, we have met many wonderful local leaders and workers who dedicate so much of their time towards addressing this global water crisis. They are the true heroes in this fight toward water and sanitation for all. So today, we'd like you to join us on a journey around the world — to meet these amazing people — who we are honored to partner with!
Meet Radhames Carela; Moca, Dominican Republic. Surge Partner Organization: Wine to Water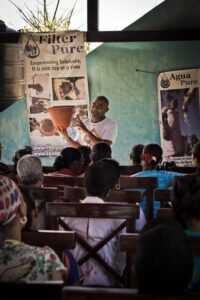 Q: When did you get started working with water and why?
A: In 2006, I met Lisa Ballantine, who had the idea to develop a filter in order to work in very poor communities. She brought the project idea to me and we began developing the filter.
I am a clay artist who has been working with clay my entire life. I've been working with clay for 50 years. In my community, people traditionally made pots to store water, which helped me better understand the importance of the filter in the process of water purification.
Q: Why is water important to you?
A: Our bodies are more than 75 percent water. Water really is life. We should take care of it and protect it so that it stays clean, because if it is contaminated, instead of doing good it is harmful.

Q: What is your favorite memory of working with Surge? Do you have any comments about Surge's support of your work?
A: In 2015, Surge sponsored work that included repairing and building the water pumps installed in the batey Loma Blanca and Las Cavirma of Imber, Puerto Plata. Those filters had been broken for over 2 years, and during that time people were using water from very contaminated drainage canals.
Q: Tell us more about yourself: What are your hobbies? Your interests? Do you have a family?
A: Something interesting is that I am always busy working on developing the filter, looking for and selecting new materials that allow us to better the quality and be more efficient in the production and distribution process.
One of my favorite hobbies is visiting the mountains and being in touch with nature. Sometimes, I watch TV but always comedies, programs that always make me laugh.
I have five children and two grandchildren, but I especially consider all of the children as my family.
Support Surge's work in the Dominican Republic with a donation in honor of World Water Day here. With Surge's 100% Pledge, 100% of your donation goes directly to our field water, sanitation and education projects.
Compiled and written by Executive Director Shilpa Alva and Ashley Quinlan, Field Program Development Intern at Surge for Water.