March 22nd, World Water Day, is when several thousands of organizations and people around the world celebrate water. It's an opportunity to learn more about water-related issues, to be inspired, and to inspire others to take action that makes a difference.
Here at Surge, we are especially excited about this year's theme of water and jobs. The theme focuses on how enough quantity and quality of water can change workers' lives and livelihoods — and even transform societies and economies.
Through our global work, we have met many wonderful local leaders and workers who dedicate so much of their time towards addressing this global water crisis. They are the true heroes in this fight toward water and sanitation for all. So today, we'd like you to join us on a journey around the world — to meet these amazing people — who we are honored to partner with!
Meet Camille Tahura of Davao, Philippines, and Surge Partner Organization Biosand Philippines

Q: When did you get started working with water and why?
A: I started working with Clean Water Philippines/BSF Philippines in November 2013. I was previously a nurse, but I became uncomfortable with the changing shifts. I prayed for a job that had normal daily working hours. God answered my prayers, and I fell in love with my work here at CWP/BSF the moment I started. I was so amazed by how the biosand filter works to make bad water clean and safe to use. This simple machine, with no electricity and no need for replacement parts, filters water naturally and can save a lot of lives! I also love to do health teaching because I believe prevention is better than cure. Water is life, but clean water is life plus health!
Q: Why is water important to you?
A: Water is extremely vital in bodily function. It is the basic need of every single cell of our body. Without water, our bodies cannot work. What matters is not just the quantity of water we consume, but also the quality. The water supply to several rural areas is very limited and unsafe to consume, and many people have no option but to drink it. This can affect the a person physically, mentally, emotionally, and financially. I am blessed to live in a city where water is clean, safe, and abundant, and I want other people to enjoy this basic need. I want all people in the world to enjoy clean and safe water for life!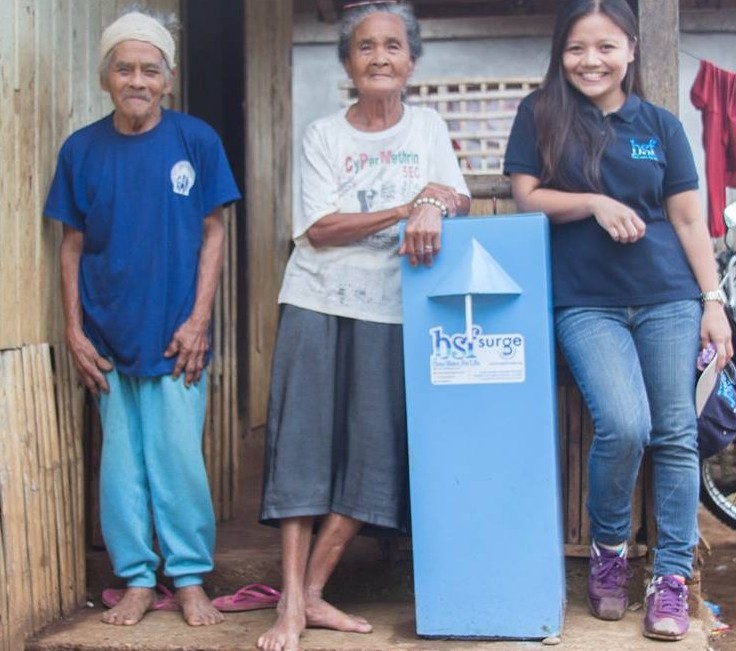 Q: What is your favorite memory of working with Surge? Do you have any comments about Surge's support of your work?
A: I have two favorite memories. The first one is when Shilpa, Marita, and Phil (from Surge) came to visit the Philippines in January 2015. It was my first time meeting them, but it was as if we were long-time friends already. [Executive Director] Shilpa is very passionate and energetic with what she is doing.
My other favorite memory is getting to go to the chosen areas where BSF-Surge Projects are located, and hearing the testimonials and seeing the faces of the families who are really grateful to have their own filters. They are now sure that the water they are consuming is really clean and safe unlike before.
Overall, our partnership with Surge is very good! Even if we are thousands of miles apart, we have good communication and a very good relationship. We are like one family!
Q: Tell us more about yourself: What are your hobbies? Your interests?
A: "We love, because He first loved us." 1 John 4:19 This verse motivates and fuels me to love and continue serving and helping people. When I am not at work, I am busy with church ministries and activities like sharing God's word and love with people. I am also one of the AWANA teachers (Approved Workers Are Not Ashamed) for the children in our church. In my free time, I often make myself available to someone who needs me. I also love traveling and nature!
Support Surge's work in the Philippines and in other areas of the world with a donation in honor of World Water Day here. With Surge's 100% Pledge, 100% of your donation goes directly to our field water, sanitation and education projects.
Compiled and written by Executive Director Shilpa Alva and Ashley Quinlan, Field Program Development Intern at Surge for Water.