Project Hearts is a community-based organization in Baitoa, Dominican Republic, which Surge has worked with since August 2014.
Our joint project success includes the distribution of 48 water harvest tanks and 180 water purification filters that have helped more than 1,200 people gain access to clean water.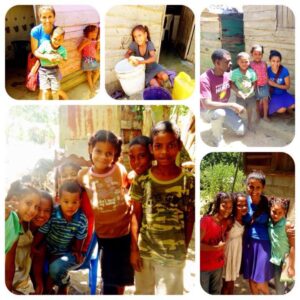 This year, Surge is supporting Project Hearts on an innovative WASH campaign that will bring infrastructure, training, and education to communities in need. Baitoa, where Project Hearts works, is a city located in the north central region of the country. This initiative will focus on four communities within the city: Mocan, San Jose Afuera, San Jose Adentro, and Castillo. A survey conducted in October 2015 showed that these four communities had the greatest deficit in WASH resources.
44 percent of people need potable water
These communities are home to nearly 10,800 people, or 60 percent of Baitoa's population, and 44 percent of people living here consume water that is non-potable. During the dry season, which extends from mid-December to mid-April, only 38 percent of homes have access to 20 liters of water per person per day. This guideline, set by the World Health Organization, is the minimum quantity of water needed to meet basic hygiene and food needs. Water is scarce during the dry season, and community members of Baitoa spend 13 percent of their monthly income on water.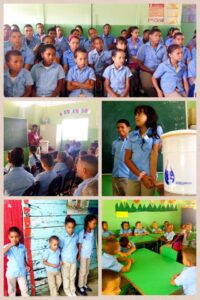 Project Hearts and Surge are working to change this. The plan is to hold WASH days each month in each of these four communities. WASH days will allow community members to obtain, finance, and learn how to properly use and maintain filters, tanks, and hand-washing stations. The goal is to install, per month for 12 months, 22 filters, five storage tanks, and eight hand-washing stations. Households that purchase one of these solutions will be visited after one month, six months, and twelve months to monitor the correct and continuous use of technologies. At the end of 2016, 1,569 people will have access to these technologies and the education that comes along with them.
WASH days aren't only about improving water access and water quality. Additionally, sanitation and hygiene practices will be promoted with the education programs that will lead to a decrease in water-borne illnesses. Local women will be empowered through valuable training in how to use these technologies. Lastly, Project Hearts will strengthen their ties to the citizens of Baitoa, which will allow for the continuation of water education programs.
Be the change
Surge cannot finance this project alone, which is why we are asking for your help. Please consider making a donation today, so that we can bring clean water technologies and education to the people of Baitoa.
Written by Ashley Quinlan, Field Program Development Intern at Surge for Water.