June 2016 marks one year of the partnership between Surge for Water and Prince of Peace for Orphans and Widows (POPOW). We are continuing to grow this partnership with numerous WASH trainings, the distribution of filters, and the rehabilitation of community wells and springs
In Kaberamaido, Uganda, POPOW has had a presence on the ground since June 2015. In all of the projects they undertake, they ensure that families, communities, and schools have access to potable water, improved sanitation facilities, and good hygiene practices.
In our most recent phase of work from February to May 2016, 8,400 children were educated about good hygiene practices; 199 filters were distributed to ensure that people were drinking safe water, and seven water points were rehabilitated. The 7 water points reached over 2,800 houses consisting of 13,271 individuals who now have improved access to safe water.
WASH Trainings
From February to May, WASH trainings were completed in 16 schools, educating a total of 8,400 children.
Water, sanitation, and hygiene (WASH) trainings are designed to educate schools and communities about potable water, improved sanitation facilities, and good hygiene practices. WASH trainings increase access to safe water supplies and sanitation, as well as change hygienic practices in communities. Educated community members are better able to understand how diseases can be transmitted and which steps need to be taken to prevent these diseases. WASH trainings in schools is especially powerful as children are creating additional change within their communities.
These trainings have proven to be successful by increasing the availability of handwashing facilities at schools and has increased rates of handwashing. Schools have also constructed make-shift urinals to avoid the open defecation and urination that used to take place. Additionally, six schools have formed School Health/Hygiene Clubs led by children to continue to educate school children. The head teacher at Alem Primary School has seen almost all of these benefits of the WASH trainings: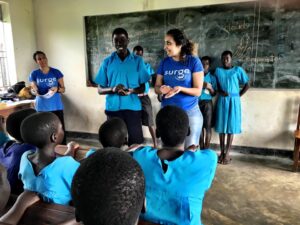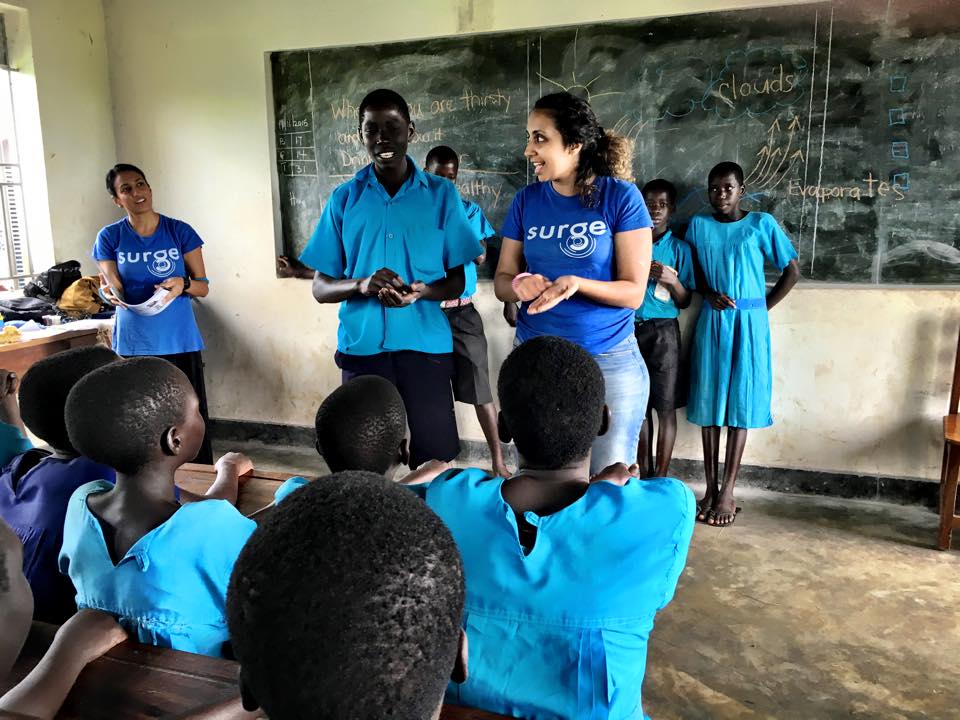 "Alem Primary School is one of the schools that has benefited from WASH training. Before this training, we had one handwashing facility for the children, but we were not critical about hand washing, so much of the time it was not used. After POPOW came and conducted the WASH trainings, we installed two handwashing cans and formed a children's health club to promote hygiene. The children have adopted handwashing at critical times, like after using the latrine and before and after eating. WASH trainings help us have healthy children in schools and in the communities."
Water Filters
Distributing water filters allows families to access to safe, potable water. Filters especially have an impact on women by lifting the burden of preparing water and allows women to focus on other activities. Additionally, it helps keep children and the elderly free from waterborne diseases. Now that Caroline and her son have a filter, they are no longer sick and she has more money for her business: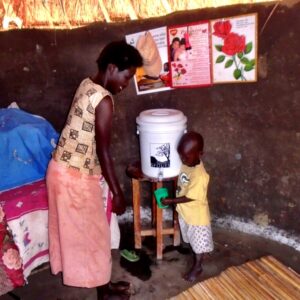 "Ever since I acquired the water filter, my son, age 4, does not drink water from anywhere else because he is aware it is not safe. This has protected him from dysentery, which used to affect him frequently. Now, I can spend more time and money on my business which allows me to feed, educate, and dress my children. The water filter is a great benefit to my family since we know every time we drink water out of the filter, it is safe for our health."
In addition to Caroline's family, 74 filters were distributed to 12 schools and 125 households also received a filter. This means that now 7,339 people have access to safe water!
Well Fixes
POPOW had two goals with well fixes: to rehabilitate old wells and to protect open springs.
First, wells needed to be rehabilitated because women used to wait many hours to draw water from a low-flowing source. Women and children, especially girls, used to fetch water until after sunset because of the long lines. Locals now say that by 6 p.m. there is hardly anyone at the wells. After wells were rehabilitated, fences were built around them so that cows and other animals were directed to a specially designated place for water versus the same source as the people.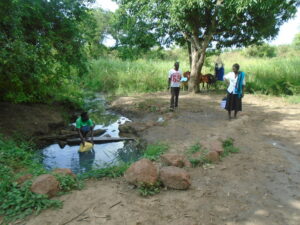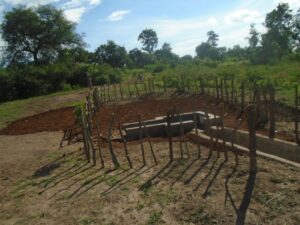 POPOW with Surge's support rehabilitated and fenced seven water sources, affecting more than 2,800 houses consisting of 13,271 individuals. Of these individuals, 7,112 are female. That means that over 7,000 women and girls can collect water before the sun sets!
Oyama spring is one of the wells that was rehabilitated, and the locals only had positive things to say about their daily lives have improved:
"I am Apecho Betty, a 32-year-old mother. Before the water was protected, the process of scooping the water with a cup into the jerrycan was tedious, and I would spend over 10 minutes to fill one jerrycan of water. Because of this, I could only fetch three jerrycans of water. But now that the water comes through the pipe, I spend only one minute to fill my jerrycan and now fetch water seven times a day. Hygiene in my home has improved because I am able to wash our clothes every day and we bathe as many times as we want."
Our work with POPOW is far from being finished. By the end of December 2016, we are hoping to provide WASH trainings in 40 more schools, distribute 44 more filters to schools and 195 more to households, and rehabilitate many more water sources.
Consider joining our efforts in Kaberamaido by making a donation towards safe water and sanitation.
Written by Ashley Quinlan, Surge Fellow