This World Water Day, March 22, 2021, 26 global companies joined us to 

"

Fill the Glass" of a deserving community by investing in our work. 
Together, we will address the global crisis that negatively impacts 2.2 billion people and create a world where every person has access to safe water. Because water means… Health and Happiness, Life in Every Form, a Better Future, and so much more.
Media Release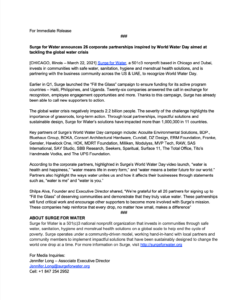 our 2021 world water day partners
want to help? get involved today
Every drop counts
We appreciate donations in any amount. Please consider sharing today.

1658 Milwaukee Ave # 100-14070
Chicago, IL 60647
United States
friends@surgeforwater.org